We follow the club motto of "Ride. Give. Live" by annually promoting, participating and supporting charity rides each year. Our club and members passionately believe that cycling not only brings people together to ride but also to achieve greater goals.  At our club, giving back is clearly one of those greater goals.
Over the past 5 years VCC and its members have raised over $210,000 towards the Tour D'Abernethy and Tanya's Ride. 100% of the charitable funds raised go to the two charities, while VCC covers the cost of these rides.
Tour D'Abernethy 2023 - October 14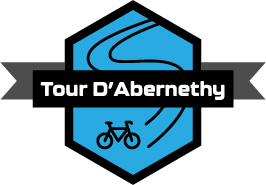 Saturday October 14, 2023  – Beaver Valley
This charity ride began in 2020 and in some ways replaced the canceled Tour For Kids ride by continuing to support Camp Oochigeas which supports children with cancer.
The ride was initiated by Jim's friends in memory of Jim Abernethy who was an active VCC member and a fund raiser for Camp Oochigeas.  VCC was pleased to be asked to participate and support this great cause.
For 2023 this event is focused on a gravel ride followed by a night out to hear some local music and share some laughs.
In 2022, we had 30 riders participating in either of two gravel ride options and one road ride choice. 
The event has raised over $17,000 in 2022 and in the three year history has raised over $83,000 for this great cause.
We are looking at expanding the ride options, including Toronto based rides, to increase the number of participants.
Tanya's Ride 2023 - September 9
In 2018, Velocity established its first charity event, Tanya's Ride for Brain Injury, raising funds to support the Brain Injury Society of Toronto (BIST).
This ride honours the memory of our dear friend and fellow cyclist Tanya Luder, who suffered a serious brain injury while riding at Red Rock Canyon near Las Vegas in 2014. Tanya was an avid cyclist, as well as an impressive fundraiser on Velocity's Tour for Kids team. For five years following her accident, BIST gave Tanya tremendous support and boosted her spirits greatly.
Before passing away in October 2019 from complications of her injury, Tanya was a bright and enthusiastic presence at the first two rides. We at Velocity hope her spirit will live on through this annual event.
 The event is a primary fund raiser for BIST and in the first 6 years has raised over $150,000.
Looking forward to another great event in 2024.